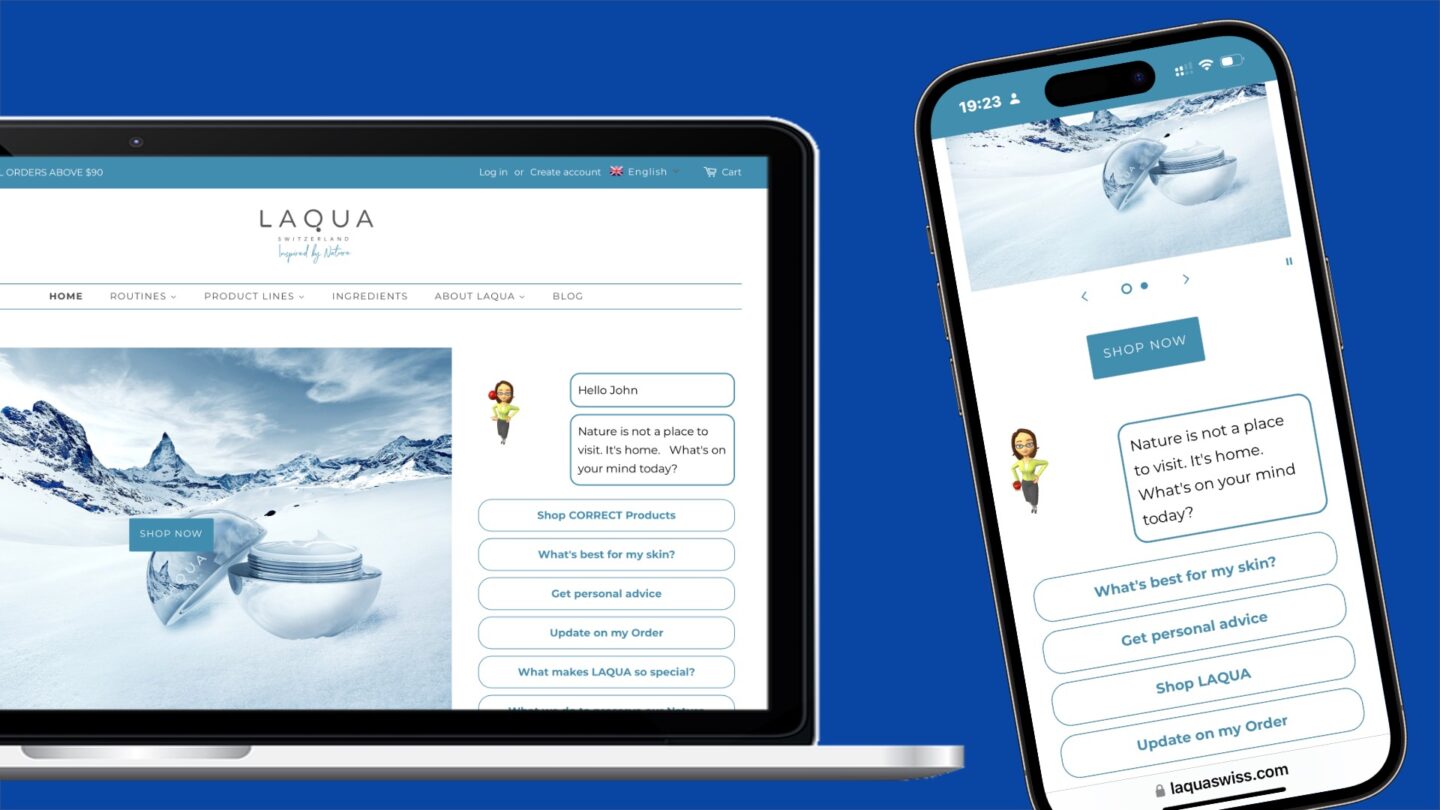 As marketers, we can no longer afford to build poorly targeted campaigns. Consumers nowadays know precisely what they want, and they have no patience to look at items that are not relevant to them.
Build Brand Awareness
Capture E-mail Addresses and Marketing Opt-ins
Engage your Visitors
Educate Your Shoppers
Offer a Personalized Recommendation
Stay in Contact with Permission Marketing and build a Community
In light of GDPR, the demise of the third-party cookies, and changes with the launch of iOS 14, getting reliable data is essential.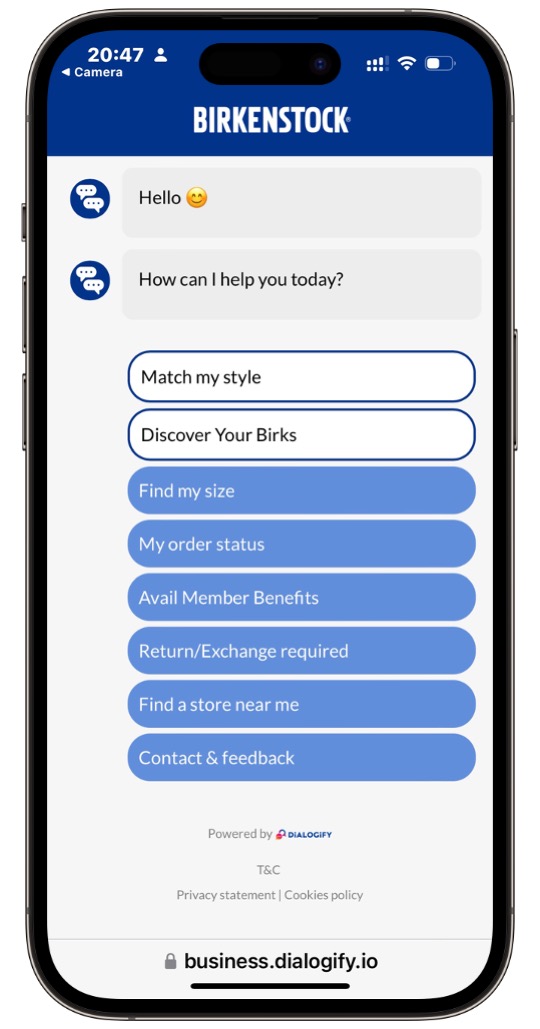 That's where e-commerce brands can take advantage of direct-to-consumer (D2C) marketing and gather the desired information directly from the customers. By having such information, these brands will be able to guide the consumers to the most relevant products, capture e-mail leads and improve the overall customer experience.
Eight out of ten shoppers are keen to share their personal information with brands in order to create a more personalized shopping experience. In return, they expect to receive relevant offers and value.
Nevertheless, seven out of ten consumers assert that brands are not able to meet their expectations when it comes to personalizing the shopping experience.
This massive gap between customer expectations and the marketers' delivery leads to cancelled Marketing opt-ins (unsubscribe), lost business opportunities, and diminishing customer experience.
Notwithstanding the above, this is where the real opportunity awaits. By engaging directly with the consumers, the brands will be able to personalize the offers in a better way. It will also lead to a higher conversion rate, increased customer satisfaction, and higher average revenue.
Did you know that 73% of US consumers have made purchases from an e-mail offer? All that brands need is to offer relevant suggestions and personalize the way they sell.
All you need to do is collect the data, segment your audience based on their interest and consumer profiles, and create well-targeted, relevant, and irresistible marketing campaigns. If you miss the mark, you will end up advertising irrelevant products or solutions that will annoy your audience and result in the loss of potential customers and business.
This article will cover strategies that direct-to-consumer brands use to collect customer data, create better customer engagement, and grow fast.
The Fall of Third-Party Data
In the past, brands heavily relied on third-party platforms, such as Facebook and Google, to understand consumer preferences, goals, and interests. However, with the implementation of stricter regulations on personal data (e.g., DSGVO/ GDPR), the abolition of third-party cookies as a way of personalized advertising is coming nearer.
So, if it is becoming increasingly difficult for advertisers to play out targeted advertising, what does the future hold for personalized advertising?
The brands will require to engage with their customers directly and ask them to share their preferences and interests in order to understand what is relevant to each individual customer.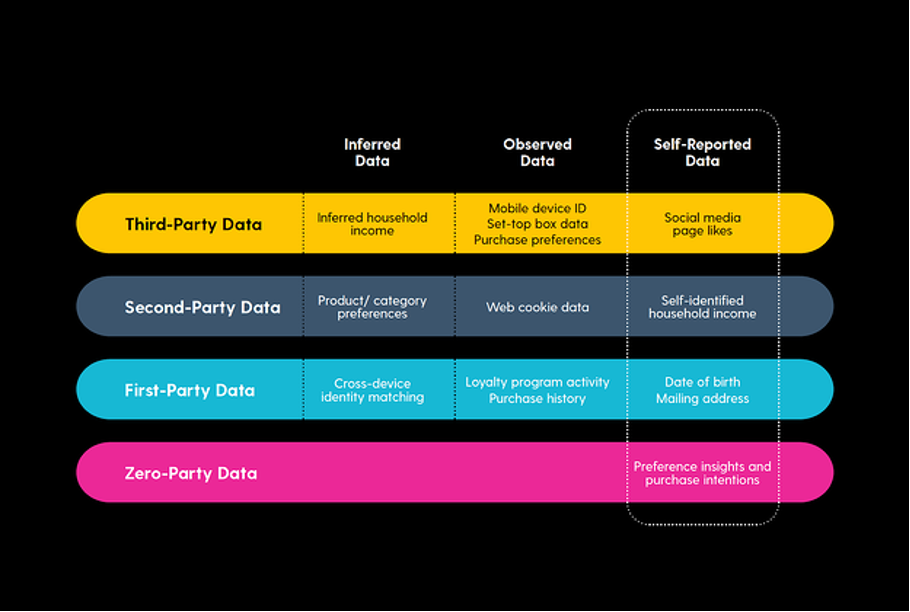 This approach is called "zero-party data" and is defined as data that a customer shares with a brand internationally. The data shared may include preferences, interests, purchase intentions, and personal information (such as e-mail address, gender, date of birth). It is first-hand data that no third-party interpreted, grouped, and supplied to the brand.
Therefore, if brands use it well, zero-party data can become extremely valuable in creating highly personalized experiences.
Contrary to first-party data (such as purchase history or website engagement), zero-party data gives insights into the future patterns rather than assume consumers' future choices. For instance, it doesn't mean that your customer is into football or sportswear if they previously purchased red football shorts.
Zero-party data can be obtained via multiple channels. Most crucially, it must involve direct interaction with the consumer through surveys, quizzes, or questionnaires.
Use Conversational Marketing to Engage with Your Audience
Conversational marketing is a powerful way to gather consumer data and use it to guide your shoppers through the marketing funnel. Most importantly, it applies to every stage of the funnel – from the first encounter to loyal brand ambassador.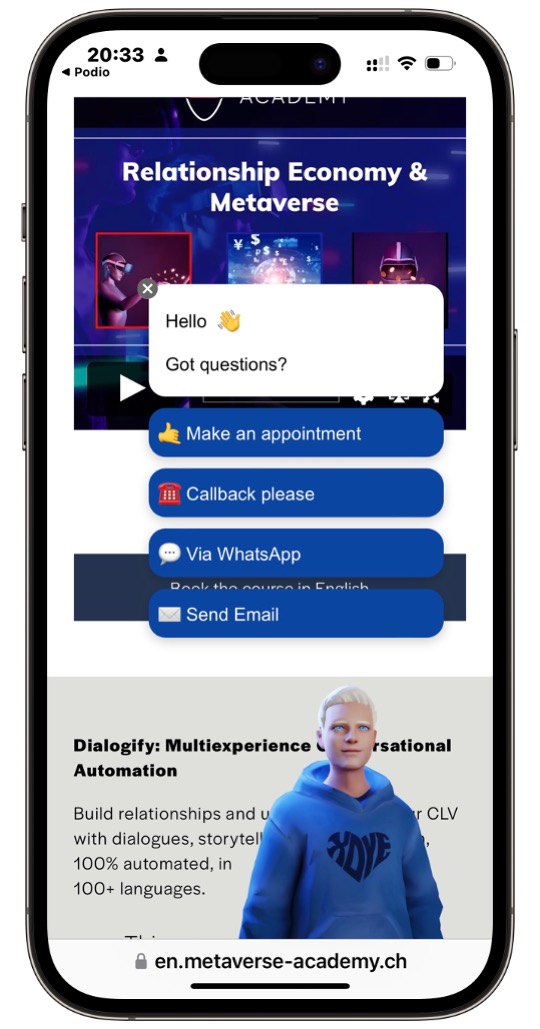 Dialogues with your consumers are a perfect and the most natural way to engage with the shoppers. Today's consumers are used to communicating via short text messages with their friends or family, and they want this type of communication with brands.
Use dialogues to learn more about your shoppers at every stage in your funnel. You can build awareness, educate, advise and drive repeated purchases by conversing with your customers.
Brands that leverage on building a personalized, relevant experience for customers will create a differentiated and defensible marketing strategy. Instead of asking, "How can I help you today?", directly engage with a relevant question and offer options that are suitable to the customer.
The Swiss skin care brand LAQUA continues to apply various options for the dialogue integration on its webpage. Click here to experience a demo page showing the conversational module.
Your first attempt to engage should be exciting and relevant enough to the consumer. Nobody will answer some generic and boring questions that they feel won't give them any value back.
In the example below, Rimuss & Strada Wein AG asked their customers, "Which Rimuss taste suits you?" The question followed with several other personal questions, which contributed to establishing a consumer profile.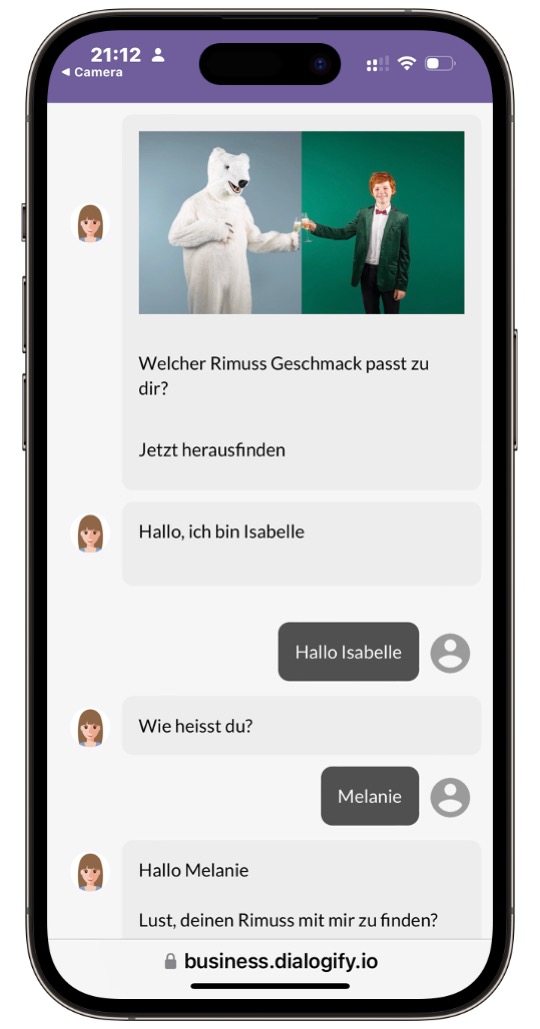 Rimuss, the 'non-alcoholic champagne,' is known by everyone in Switzerland and can be found at almost all retail stores. However, since the brand does not sell directly, it has only limited access to its consumers. It makes the marketing planning much less targeted and the brand, as a result, has to rely on its retailers.
Recently, DiALOGiFY worked with Rimuss and successfully used the chat dialogs to establish direct access to consumer information and thus generate valuable insights.
Not only has Rimuss gathered the consumer data, but it was also able to entice these consumers to make a purchase as at the end of the survey, each consumer was given a voucher for their next purchase.
In Rimuss & Strada Wein AG example of dialogue automation, the brand was able to obtain valuable consumer data, as well as generate additional revenue with an enticing voucher reward.
A quiz is a tool that helps nail personalization as the brands can display the right product in front of the right customer.
Similarly, another international brand – Birkenstock – allows its customers to engage with a chatbot to discover the best footwear options available for them. The chatbot (called Alex) asks a couple of questions (such as gender, what color scheme the customer prefers, and what style the customer usually wears) to understand and propose the best-suited footwear option.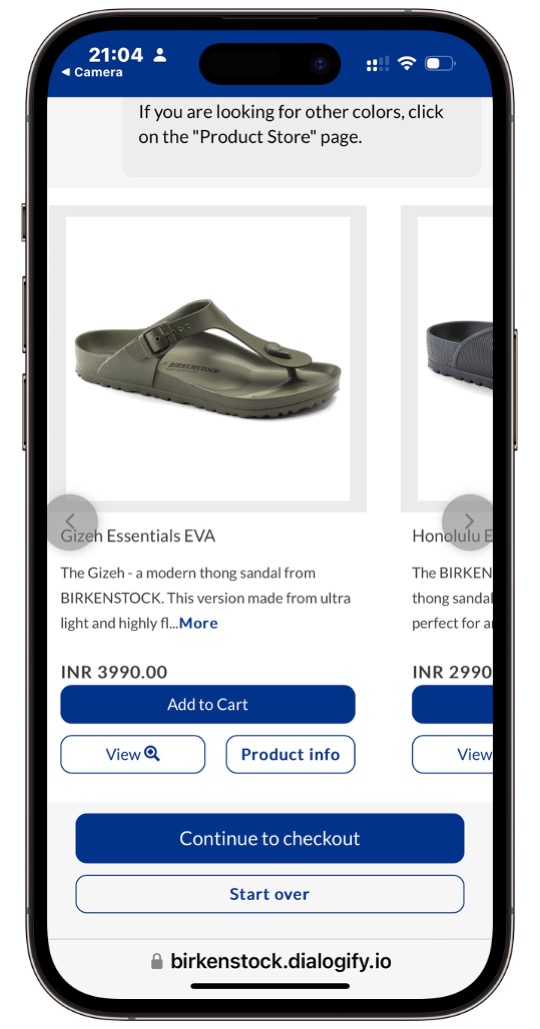 Forget browsing through endless lists of apparel options available to get demotivated and not purchase anything in the end. Engage with a chatbot to be presented with a relevant option that will match your style and preference.
On top of all, Birkenstock chatbot gives a 10% discount for those customers who share their contact details (such as e-mail address) with the brand. Later on, these customers can be re-engaged through e-mail marketing campaigns to build their relationship with Birkenstock further.
DiALOGiFY technology can be integrated into your Shopify (and soon WooCommerce and many more) stores. The integration has two parts:
Module for Dialog-integration to your website builder
Integration as Web Widget Concierge
On the DiALOGiFY dashboard, a "Guide to Purchase" dialog can be created that narrows down the suggestion of products based on a set of questions. The product data from Shopify (photo, name, description, price, and most importantly also tags together with other relevant attributes) are available in DiALOGiFY to be used. Dialog Automation will work as a humanized choice-finder concierge, narrowing down the choices and offering only what is relevant to each consumer.
There are several advantages of using DiALOGiFY dialog automation:
Improved engagement with your visitors on the website
Ability to capture visitor profile data through questions
Reduced products offering to only 3 – 5 most relevant items
Close integration to Shopify creates a seamless user experience for visitor
An astonishing uplift of conversions
Less returns because of a higher confidence of the "right" product ordered
Personalization allows your brand to improve the customer experience significantly. However, most importantly, it positively impacts crucial metrics, such as conversion rate (80% of shoppers are more inclined to make a purchase if a brand offers a personalized shopping experience). Nevertheless, personalization boosts customer lifetime value, as more than 65% of customers"are likely to switch brands if a company does not make an effort to personalize communications."
It goes without saying that a conversational marketing strategy will result in multiple benefits to your band.
Ways to Use Dialogues to Your Brand's Advantage
Let's have a look at how e-commerce brands of all types can use dialogues to build fun and engaging consumer experiences that add value for customers and brands. Don't see your web chatbot as a tool to answer most FAQs; instead, look at it as a tool that builds connections with your customers.
Remember that conversational marketing is based on mutual conversation, NOT brands shouting to their customers to get their attention. It can, therefore, serve many purposes.
Build Brand Awareness
Dialogues are interactive! Your web chatbot can shed more light on your products and answer questions that a prospective customer may have. Let's face it, a chatbot that is well designed will be able to understand the major problems your prospect is facing and offer relevant solutions. On top of that, by giving these options, it can also present the main USPs that are distinctive to your brand.
For example, a coffee seller may use dialogue automation to survey prospective customers on what type of coffee would best fit their taste. By showing relevant options, the chatbot can also tell the ways your brand ensures your coffee is freshly roasted ("We roast our coffee beans every Sunday and freshly packed coffee is dispatched from our warehouse every Tuesday to reach our customers by the end of the week.")
Conversations between your brand and your customer are interactive and, as a result, are more effective in buyer education and differentiating you from the competition.
Capture E-mail Addresses and Marketing Opt-ins
E-mail marketing is by far one of the most successful ways of generating sales. Consumers spend 138% more as a result of e-mail marketing when compared to consumers who don't receive any e-mail offers.
Personalized e-mails result in revenue and transaction rates that are six times higher than non-personalized e-mails.
Let's face it – every brand wants to capture e-mail addresses to be able to communicate with existing and prospective customers. Consumers know that, and they are reluctant to share their e-mail addresses if the brand gives no immediate value.
Therefore, it is crucial to assess the value of your offers when asking for an e-mail address in return. Discounts, coupons, and incentives like free shipping or special promotion entice the consumers to share their e-mail addresses the most.
Gamification is another great way to entice consumers to share their e-mail addresses. For example, a spin the wheel campaign offering multiple incentives can drastically increase customers' engagement. Typically, after receiving a voucher or discount, customers feel the necessity to return the favor with something in return.
Your customers can be asked to complete a quick quiz to determine their skin type. Once they give answers, you can propose the best products to improve their skin condition. In order to claim the items, they need to share their e-mail address to receive further details. Here you have it – an e-mail address and a consumer profile!
Educate Your Shoppers
While brands leverage on dialogue to learn more about the consumer, it can also be an opportunity for the brands to educate consumers. By understanding the main pain points and proposing solutions, the brands demonstrate expertise and authority.
Your chatbot should be ready to answer the major questions and show relevant options to the consumers.
Educating and conveying authority, the brand assures the customer that even if the customer is not sure about making the decision, the customer can choose the tailored suggestion made.
Your Bot should be ready to guide the shopper, explain and assure them that the selection made for them is accurate.
Nevertheless, the "Recommended for me" section on the website that is based on customer's stated preferences and background is also a great way to persuade the customers. In fact, 92% of shoppers have been convinced by personalized recommendations.
Offer a Personalized Recommendation
Your brand being able to recommend a product to a customer is the ultimate goal of your personalization strategy. However, in order to provide a suitable recommendation, your brand must know the consumer very well.
A quiz or survey to determine the accurate customer profile will help you nail personalization
However, only having an accurate customer profile will not suffice. You also need to know your products very well and be able to match them with the requirements or preferences that your customers would have.
For example, if you sell hundreds or thousands of types of skincare products, you can create a system of matching each of them with the specific skincare issues your customer can have. Having an extensive list of products on your e-commerce store will create confusion, thus having a robust system of categorizing and recommending them will play to your advantage.
A product recommendation can make up for up to 31% of e-commerce revenue.
Stay in contact with Permission Marketing
In order to make an impact with your personalization, you need to understand who your customers truly are. Assess the challenges they face, their preferences, habits, and primary goals. Dialogues, gamification, surveys, and quizzes can become invaluable tools!
How to Create Dialogue Automation with DiALOGiFY?
Treat dialogue automation as a new marketing campaign. It will require thorough planning and a clear strategy in mind. Your chatbot should have a clear goal in mind and should serve a specific purpose. Avoid creating something too general that gives little to no value to your customers.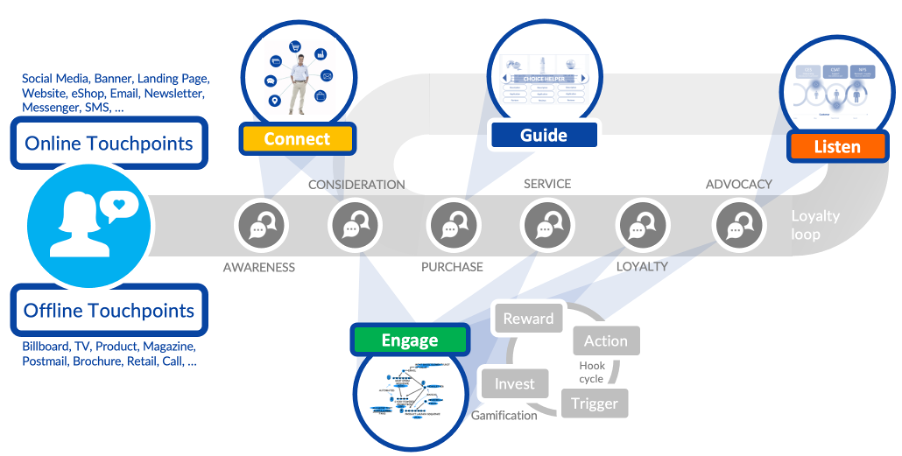 A Customer journey (as shown above) can be complex and require multiple engagements with the brand. Your customer might engage with your brand through different touchpoints, such as social media, Google Ads, SMS, e-mail, or brochure. Automate chat dialogues despite the touchpoints and make them available throughout the entire customer journey.
If your brand uses forms to gain information about the customers, replace them with dialogues. Consumers are resistant to filling up forms as they are often not interactive and boring. Instead, have conversations with your customers; build long-lasting relationships that are based on emotional connections.
Dialogue automation can generate ten times higher CTA values on smartphones, as consumers are used to exchanging short messages with their friends and family. Therefore, replacing forms to chat seems to be a much more natural way to communicate, collect information and ensure a better customer experience.
DiALOGiFY technology is here to help your brand realize your needs. Supported by data and technologies, with multiple functionalities and workflows, DiALOGiFY uses playful elements (gamification) and AI to start, automate and analyze conversations. In addition, DiALOGiFY' chatbot automation can be integrated into existing marketing systems (Shopify, WooCommerce, MailChimp) to enhance them with essential functionalities and thus make your current infrastructure more effective. In addition, DiALOGiFY complements industry-specific applications and develops corresponding solutions within their platform.
The key to success in your dialogue automation strategy is determined by how your brand engages with the consumer. Generally, online engagement has been on a decreasing trend; however, it should not be the case if you properly plan how and where to engage with your customers. DiALOGiFY technology is ever-evolving to cater to the latest market changes and, as a result, ensure the highest customer conversions for your brand.
Successful Marketing Automation Strategies
Did you know that adequately implemented marketing automation has the power to increase leads by 451% and boost sales by 34%? Surprisingly, 85% of marketers admit to not using it correctly. It is possible that your brand is also not using marketing automation in a proper way and the reasons for it are frequently two – complexity and time required to set the automation properly.
Successful marketing automation strategies put customers at the center and reduces any confusion that the prospects might have at different sales funnel stages. As a result, your brand should be prepared to cater to different automation types at varying stages of the consumer journey.
Lead activation – "Start Now!"
Abandoned shopping cart – "Still Not Sure…?"
Onboarding – "Welcome to Our Website, Your Benefits…"
Repeated purchase incentive – "Buy Again!"
Personalized events – "Congratulations on ….!"
Seasonal greetings – "Merry Christmas!"
Loyalty – "Thank You for Your Trust; Could You Share More About Your Experience with Us?"
Referral marketing – "Friends Refer Friends."
Cross- and upselling – "Recommendations for You."
Re-activation – "It's Been a while; We Miss You!"
These are the most important marketing automation use cases that your brand should implement now to enhance the customer journey, gain new customers, build a stronger relationship with the existing ones, and win the long-lost ones back.
Here you have it – a comprehensive guide to building dialogue automation that will benefit your brand, improve customer engagement, allow you to build trust and relationships with your customers, and support your marketing activities. Remember, direct-to-consumer marketing is much more than brands talking to customers; it is a dialogue that brings mutual benefit to both parties.