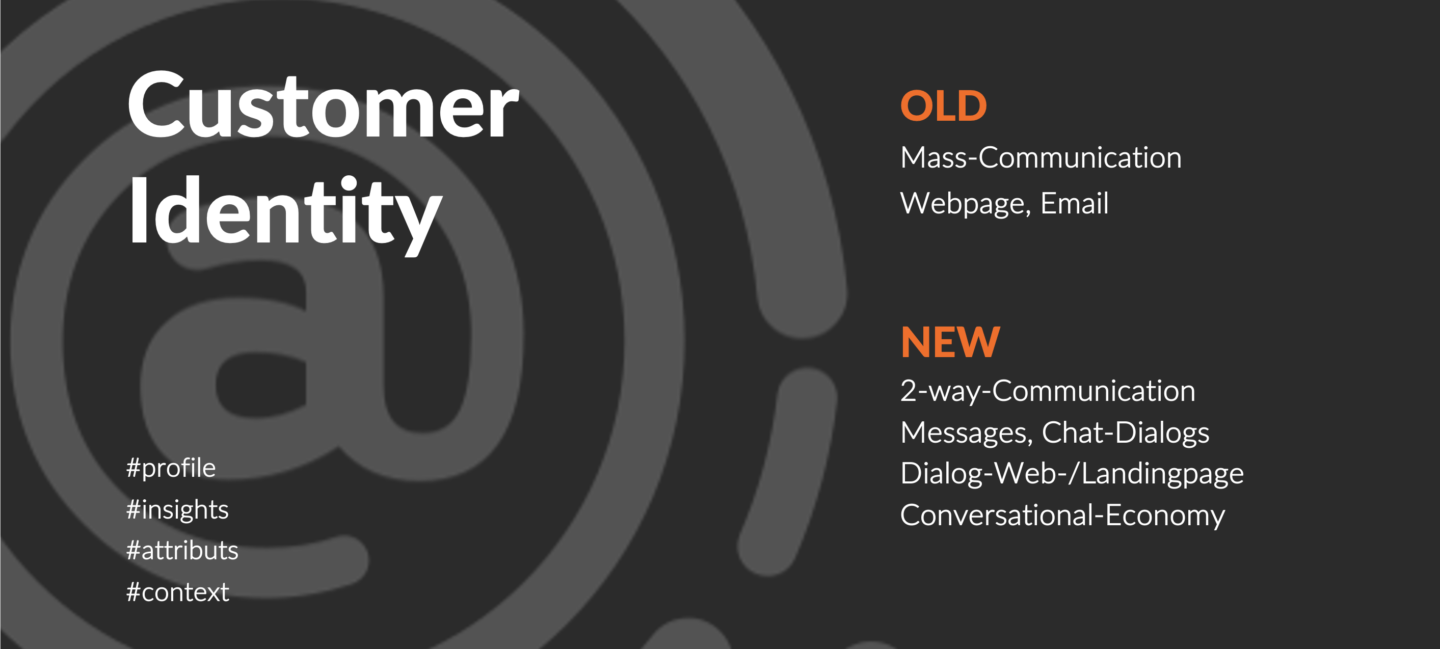 The digital age has been transforming and disrupting every business and every industry. Business leaders, digital strategists, and executives across the globe are gearing up to lead their organizations through this transformation.
However, digitalization alone won't be effective if the customers are forgotten and taken out of sight.
This is where D2C (Direct-to-Consumer) marketing can become a game-changer for brands willing to build digital relationships with their audiences.
D2C opens a new era in marketing
This trend has not left other long-established brands, which have been selling through traditional channels for decades, unscathed. Brands such as Heinz and Coke have recently opened up new channels of communication with their customers, activating direct-to-consumer relationships for the first time.
Direct-to-consumer does not automatically mean that the brand wants to sell directly to its customers. A D2C strategy means that a brand is attempting to establish direct communication with its consumers in order to get to know them better, i.e., to gather insights. The advantage is obvious: consumers benefit from products that better meet their needs.
Digitalization is inevitable, and it can either crush your brand or skyrocket it. Technology today gives you ample space and opportunities to connect with your audience, learn about your customers' choices, gain feedback, and build long-lasting relationships that are based on trust. Customer-centricity and customer experience (CX) should be the catalysts that spark your digital innovation.
The digital transformation roadmap
More and more brands embark on the digitalization train with the aim to better serve their customers. It all starts with putting the customers at the epicenter of the brand. Having the customer-centric approach will help brands better understand their customers, learn valuable information about them and offer a highly personalized shopping experience.
Delivering highly personalized experiences has become a priority for many brands. Therefore, let's take a look at how these brands can engage with their customers and make their experiences memorable and relevant.
Engage and build digital relationships with your customers
Digitalization of your business should facilitate engagement and relationship building with your customers. Having access to customer data and knowing their needs will ease your marketing efforts and deliver much better results.
Find your customers where they are at. Making a connection with them via multiple different touchpoints will increase your chances of engaging with them. Use touchpoints along the user journey to build a bridge to your audience and build digital relationships.
Are your customers active on social media? Engage with them there and entice them to give more information about who they are and what they need. You can create a dialog survey, where a chatbot asks one question at a time, and the consumer gives the answer. At the end of the engagement, your consumer gets a reward (e.g., a free trial). In this way, you're sure to establish a stronger connection with your audience and know exactly what they want.
I recently came across a swimming goggle brand that used its product as a touchpoint to connect with the customers. All they did is print a QR code sticker on each item, encouraging the customers to scan and follow them on Facebook. The idea is excellent, BUT the brand shouldn't have directed the traffic to Facebook. Instead, they should have engaged with the customer via dialog automation and get the marketing opt-in line with their profiles and possibly some other valuable information about them. As a reward, the brand might have offered something to extend the life of the product or perhaps a 5% off coupon for the next purchase.
Should the brand have created a dialog page, it could have gotten some valuable information (such a location, email, date of birth, contact information, etc.) of a customer, which would come in helpful in executing marketing campaigns in the future.
Instead of directing customers to your social media accounts, consider capturing your customers' profiles and constantly adding attributes to get to know them even more.
At DiALOGiFY, we have recently helped a household appliances brand connect with its customers who purchased a specific type of coffee-making machine. A welcome flyer was put in the water tank, and it invited the customers to scan the QR code to provide some information about their purchasing experience.
Not only did the customers leave their feedback, but they also shared some personal data, such as name and email address. As a result, the brand can engage with them in the future and offer some items complimenting their purchase or find out how they like their purchase.
Customer perception has changed, and so should your approach
The way brands talk to customers has changed dramatically over the past years. What previously worked well today no longer brings desired results. Sending impersonalized, mass-produced communication via Email Direct Marketing or making the customers browse lengthy webpages no longer work in 2021. The customer perception has changed, and they want genuine interactions and two-way communication (dialog) rather than brands talking (or sometimes even shouting) at them.
The mobile mindset economy heralds a new era with personalized interactions. Continuing the dialog automatically along the consumer journey offers an entirely new experience in marketing communication.
We help marketers build digital customer relationships
Imagine interacting with your audience wherever they are, 100% automated. Bridge the physical to the digital world, use games and rewards to engage with and know who your customers are, and delight them with excellent customer personalization.
Today's consumers are glued to their phones. They continuously engage in dialogues with their peers, friends, social media influencers, and they want the same type of engagement with their favorite brands. Short and instant messages (such as comments on social media, Facebook messenger, and WhatsApp communication) have become a norm for today's consumers. Therefore, the way you want to engage with them should also reflect this norm.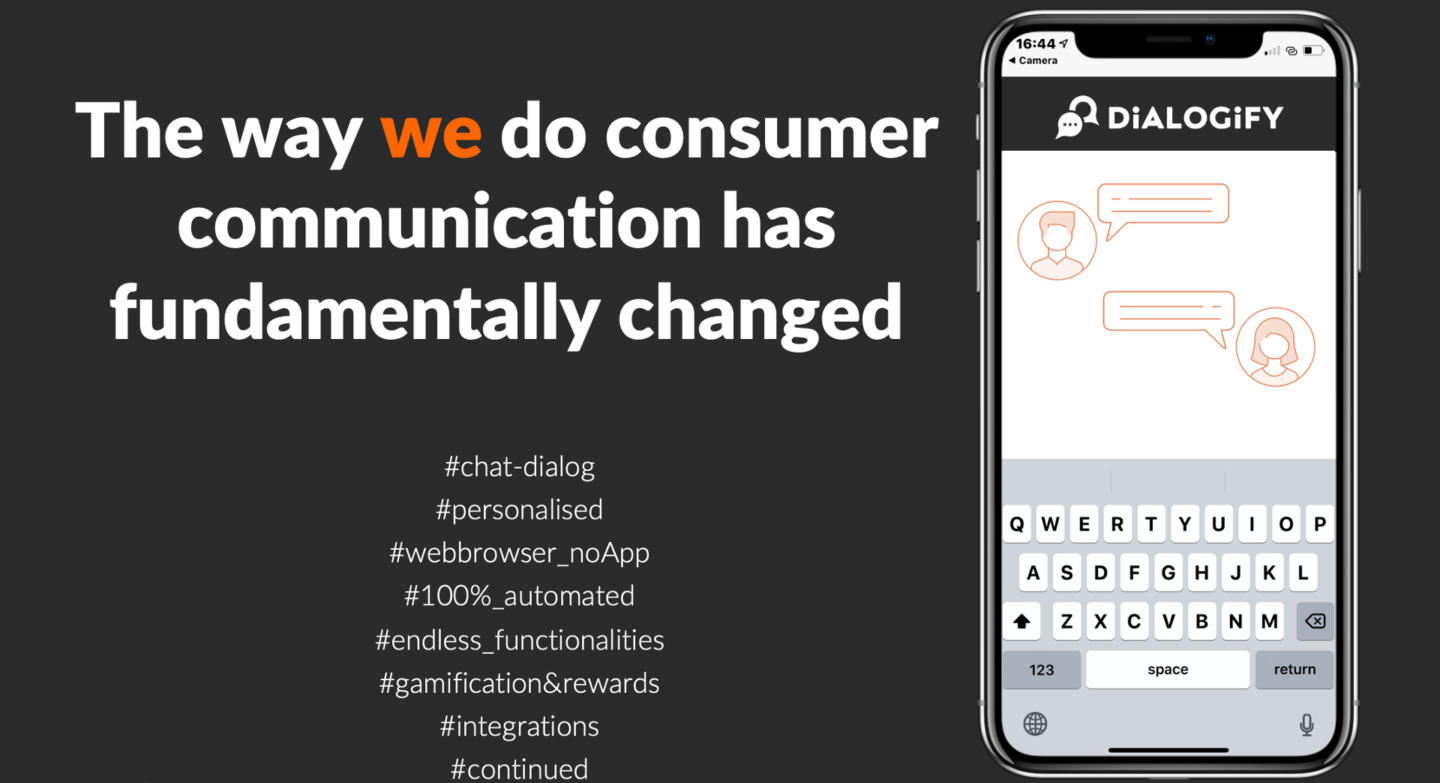 This new form of communication stands in contrast to the one-dimensional practice of the past, which is text-heavy and looks crowded on the smartphone. Web-based chat dialogs are personalized and involve users in a journey flow because they are naturally relevant.
The cherry on the cake – all interactional data is saved and is available for analytics to gain insights and learn about your customers. You can use this data to plan successful and effective marketing campaigns, as well as analyze different choices that your customers make. Gathering as much information as possible about them will help you tailor your marketing campaigns to their needs.
Are you ready to become a digital winner in the era of D2C? Read more about what DiALOGiFY's Dialog & Chat-Automation can do for you.