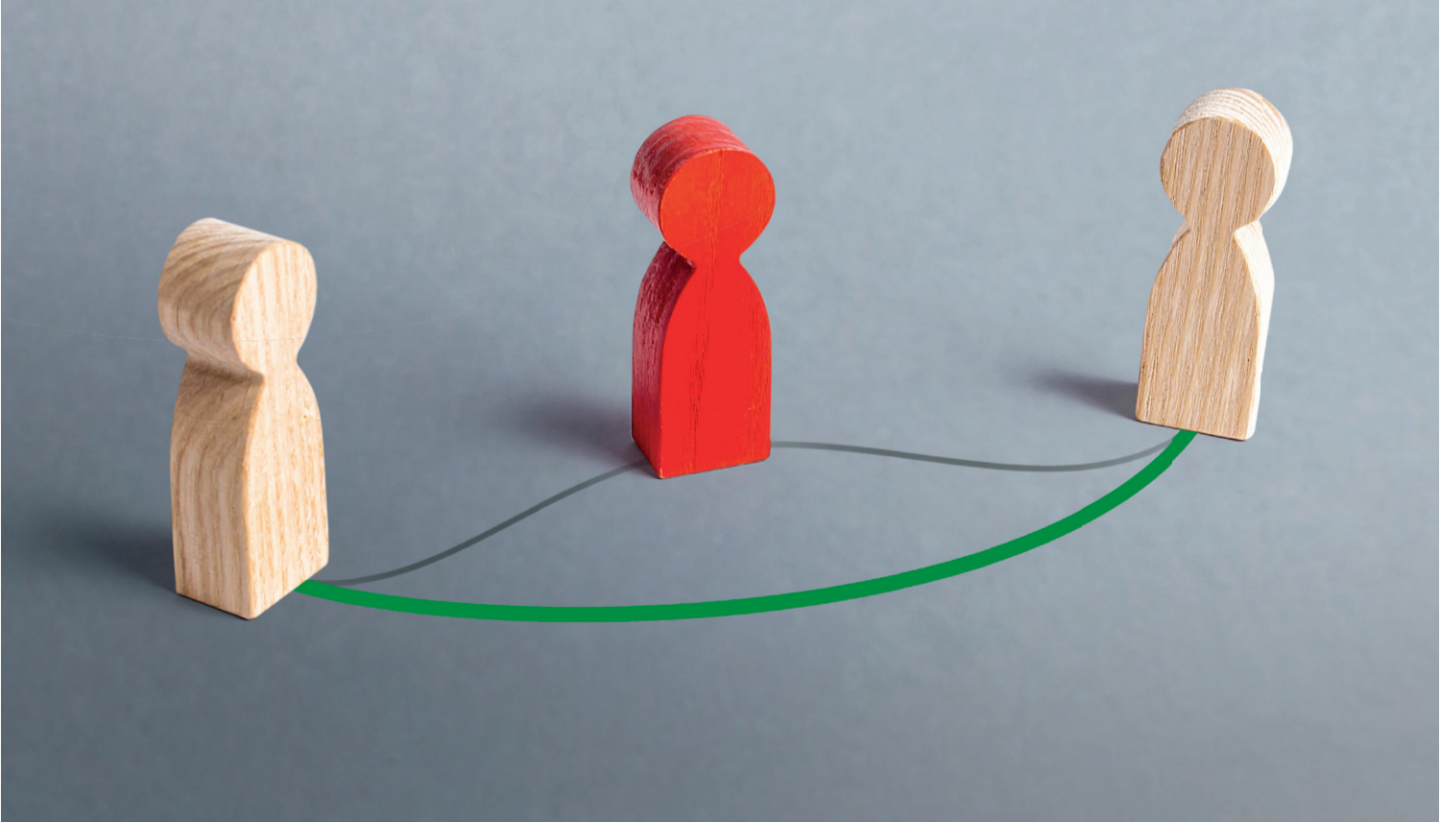 THE EXAMPLE OF EMMI CAFFÈ LATTE

D2C strategies with chat dialogues are often associated not only with sales benefits, but also with learning through direct data collection from the consumer goods manufacturer.
The following case study of the Emmi Caffè Latte brand provides an example of how learning can only be achieved through a systematic approach and requires the corresponding use of resources. It also shows how a D2C learning strategy can bring the topic of direct selling closer to a traditionally intermediary-focused company.
Published in St. Galler Marketing Review, November 2021
Authors: Marcel Härtlein, Pascal Mühlheim, Dominic Bolliger, Severin Lienhard
Core Thesis
D2C strategies offer manufacturers excellent opportunities to get to know the customer.
A modern digital infrastructure is the basic prerequisite for collecting high-quality data in a structured way.
QR codes with a link to a web dialog allow manufacturers to build the bridge to the end customer, even if the sale is made through intermediaries.
This approach enables the gradual building of D2C strategies in intermediary-focused companies.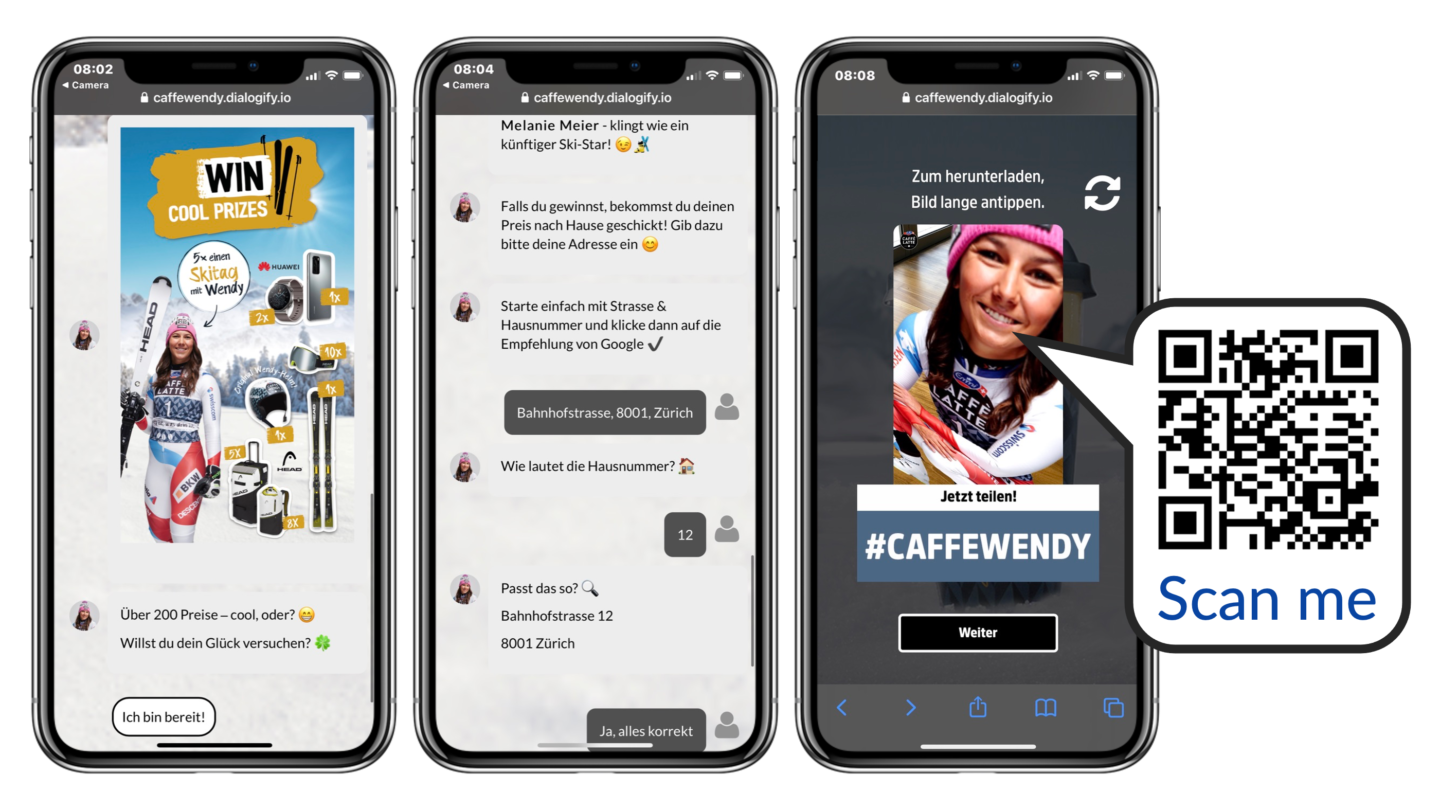 In July 2020, The Economist magazine ran the headline: "The world's leading brands jump on the direct-selling bandwagon – they are after not just sales but data too" (The Economist, 2020). D2C strategies can therefore be used to market, collect data, generate insights, or create engagement in addition to selling products (Bashkin et al., 2017; Oliver Wyman, 2019).
Direct-to-consumer selling has long been practiced by vertically integrated companies such as Zara and H&M (Gertner & Stillman, 2001; Watson et al., 2015). In the fast-moving consumer goods (FMCG) segment, the Nespresso example is often referenced (Gassmann et al., 2020; Kahn et al., 2018), but companies such as Nahrin or Oswald also mainly sell online without intermediaries (Wait, 2019) or even face-to-face directly to the end customer (Peterson & Wotruba, 1996).
For a large number of consumer goods manufacturers, especially in the FMCG segment, D2C strategies gained increasing importance only in recent years (European Commission, 2017; Gielens & Steenkamp, 2019). Reinforced by Corona, companies such as PepsiCo, Oreo, and Heinz launched D2C strategies in 2020 alongside their core retail channel (Campillo-Lundbeck, 2020; Schögel & Lienhard, 2021; Slashgear, 2020; White, 2020; Yan, 2011).
Heinz U.K., for example, quickly realized that many of its consumers had difficulty physically accessing their products and launched a D2C offering (Shopify, 2021a). Lindt & Sprüngli, which has long used D2C strategies in some countries such as Switzerland, strengthened its D2C efforts in Canada after closing its brick-and-mortar stores with an online store (Shopify, 2021b).
The academic literature on D2C strategies to date has been heavily devoted to the issue of channel conflict, but also potential synergies between direct approaches and distribution through intermediaries such as retailers (Pan, 2019; Sharma & Mehrotra, 2007; Tsay & Agrawal, 2004). In addition, the so-called "OB" question has been increasingly studied, which developed determinants that argue for or against direct distribution strategies (Casali et al., 2018; Kim et al., 2021). Also studied were channel extensions (Geyskens et al., 2002) or D2C subscriptions and their consequences on firm value (Pasirayi & Fennell, 2021). Likewise, research has focused on success mechanisms for D2C strategies (Gielens & Steenkamp, 2019; Watson et al., 2015) or the overall management of direct and indirect channels within a manufacturer (Chen et al., 2017; Yang et al., 2017).
However, D2C strategies are also considered to have a high potential to learn from the customer (Gielens & Steenkamp, 2019). This is said to lead to a better understanding of the customer and their behavior. This view on D2C strategies is also supported by executives: "In the future, this (direct-to-consumer) channel will be incredibly powerful to get closer to our consumers, gain insights and transfer the insights to the rest of our business." Jean-Phillipe Nier, Head of E-Commerce UK&I, The Kraft Heinz Company (Shopify, 2021).
Learning is where a D2C strategy starts for FMCG brands
This opportunity for learning through D2C strategies, rather than pure selling, is highlighted repeatedly in the literature and in practice. Especially for FMCG companies, learning through D2C strategies is an exciting field, as selling often proves to be very difficult due to low product prices, shelf life and freshness requirements, quality assurance, or the need for customers' shopping baskets (Lebensmittelzeitung, 2021a, 2021b). However, it remains unclear and there is a lack of concrete examples and analyses in the literature to what extent concrete learning can be achieved through direct customer contact.
Using the example of the Emmi AG company, the authors, therefore, address the question: How can the Emmi AG company learn directly from the customer based on the campaign for the Emmi Caffè Latte product brand and what insights can it draw from this to increase efficiency in (digital) brand activation?
The article begins with a brief overview of the underlying technology of the analyzed campaign and follows with a presentation of the Emmi Caffè Latte campaign. Finally, it elaborates on the insights for the product brand, how Emmi can approach D2C in this way, and what lessons other consumer goods companies can learn from it.
Prerequisite for learning: the appropriate technology for the product sold Emmi Caffè Latte is mainly sold via intermediaries such as in retail or convenience stores. These are often impulse purchases by consumers who want to treat themselves to a tasty refreshment. In order for a brand to come into direct contact with consumers at these touchpoints and to be able to collect additional data, it is necessary to link the physical product with the digital instruments in a meaningful way. It is important to note that the majority of private website visits are made via smartphones (Park & Cho, 2021). Emmi's many brands have also seen a dramatic increase in website visitors via mobile devices in recent years, so Emmi has developed its key product websites with a mobile-first approach.
QR codes on the cup have now been used to connect the physical Emmi Caffè Latte cups with the digital world. Playful elements and rewards act as triggers to start a dialogue with consumers. The Dialog Engagement & Automation software used from DiALOGiFY (formerly Scoutsss) provides these comprehensive functionalities and services for personalized marketing & sales communications.
Conversational Marketing boasts of communicating in a more personal and relevant way, very suitably tuned to smartphones. WhatsApp, WeChat, and most recently the combined Messenger for Facebook and Instagram are proof of this. Accordingly, automated and web-based chat dialogs have entered the mainstream, relying on smartphones as constant companions, and were used in this example at Emmi. The company is thus catering to the segment of the mobile "to-go generation", into which the core target group of Emmi Caffè Latte belongs.
Emmi's brand managers can run reports and segment analyses via a dashboard even during the live campaign. This also supports the development of additional data skills in the marketing team. In addition, DiALOGiFY allows the analysis of the dialog flow and also evaluates drop-outs graphically on an ongoing basis. Adjustments and thus optimization of the dialog are possible at any time.
The power of dialogs in customer communication with the flexible dialog bridge from touchpoint (product with QR code) to call-to-actions lies in gaining profiles and attributes as well as communicative engagement.
They deliver more personalized and relevant content and help gather valuable context on behavior. In addition, dialogs can be automatically continued at a later time, e.g. in conjunction with emails or SMS. For example, product feedback can be separated from the initial onboarding dialog. Emmi's chosen approach puts the consumer at the center and reduces the bounces that prospects might consider at various stages of the funnel. As mentioned above, the authors do not see D2C as an exclusive sales channel, but also from the point of view of direct consumer contact and, above all, in terms of enriching buyer data and gaining consumer insights.
The "Emmi Caffè Wendy" campaign Emmi Caffè Latte has been active as a brand in ski sponsorship for years and has been the main sponsor of top Swiss athlete Wendy Holdener since 2019. During two seasons, two campaigns were implemented as part of this partnership.
The core of these campaigns was the temporary renaming of a variety of Emmi Caffè Latte to Emmi Caffè Wendy, combined with an eye-catching packaging design. On- and offline measures were combined for the promotion. This article focuses on the second campaign in 2020/21.
The most important offline measures consisted of adapting the brand name and the packaging design, PoS activation, and classic communication measures (TV, Out of Home). A competition was also prominently advertised on the cup, where the QR code represented the central interface to the digital world.
This interface represented the transition to the web-based chatbot solution provided by DiALOGiFY. In a direct conversation with the virtual Wendy Holdener as chatbot avatar, the required information was requested in an intuitive dialog form analogous to WhatsApp or similar and transferred directly to Emmi's SAP Marketing Cloud together with campaign-specific attributes (Wendy Holdener, Skiing, Emmi Caffè Latte, Double Zero).
In addition to the QR code on the cup, the chatbot could also be reached via other channels. In the Emmi Marketing Cloud, existing contacts with suitable attributes (Emmi Caffè Latte consumer, interest in skiing) were encouraged to participate via email activation, and customers were reached via the website and social media (organic and paid). The touchpoints and instruments are shown in the following consumer journey.
In order to extend the dialog brand experience for consumers, they were offered the opportunity to take a photo with Wendy using an AR lens after participating in the competition. This enriched and extended the brand engagement and demonstrated the brand's innovative power.
Emmi Caffè Wendy's campaigns were intended to contribute to various target dimensions, so it is obvious that the activities were also based on a sales-promoting intention. Below, we focus on digital consumer activation and its effects.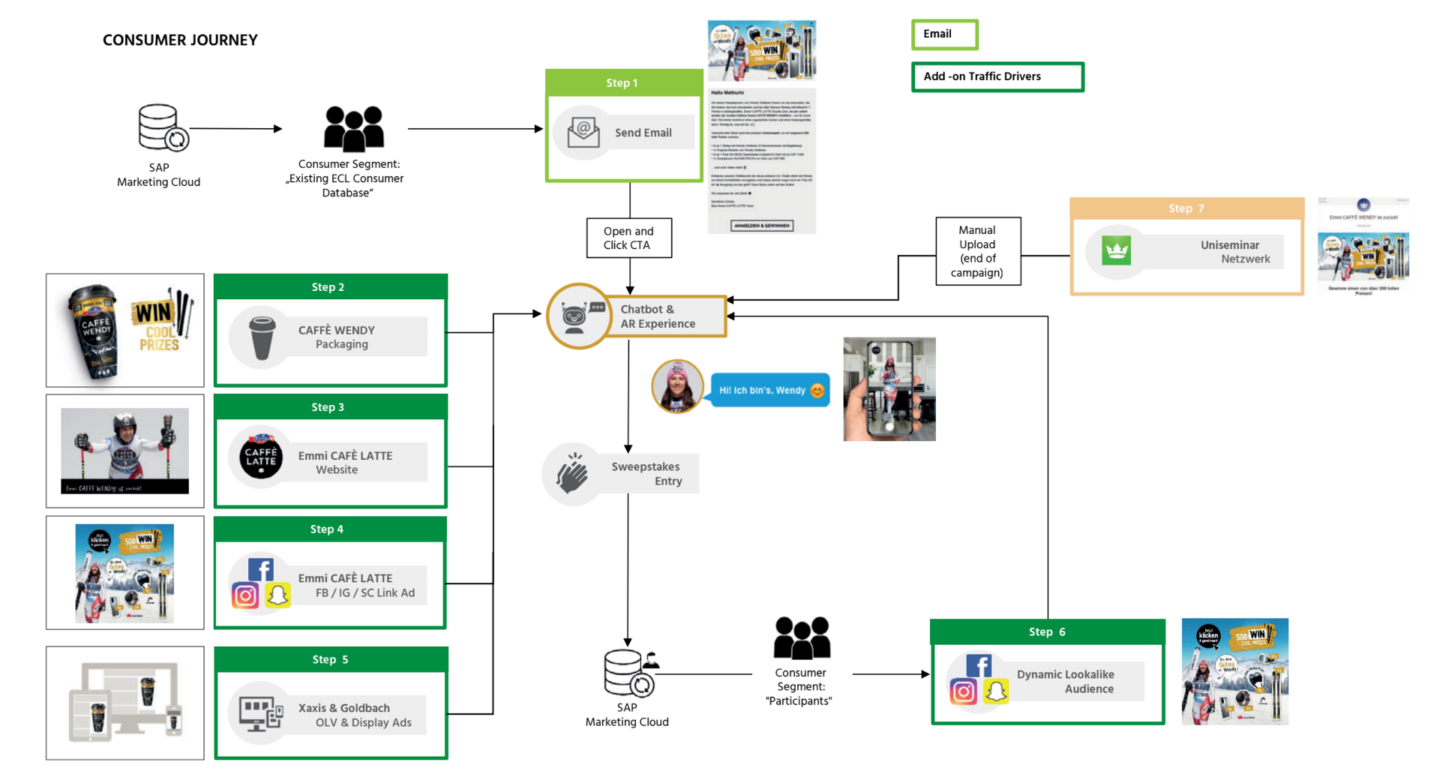 The first campaign in 2019/20 was very successful with around 20,000 new records generated. The decision to launch a second, more advanced campaign was based, among other things, on a random survey of competition participants in the first campaign, which was conducted after the campaign. Emmi was surprised by the high response rate of 35%. The willingness of consumers to express an opinion about their favorite brand is surprisingly high. Participants are thus much more willing to share personal information in a chat conversation. This is probably due to what is perceived as a rather private and natural conversation in dialog with the brand. People who came into contact with the Wendy chatbot as part of the Emmi campaign were visibly interested and enjoyed the interactive form of dialogue with the ski star. The results also show that consumers remain more engaged than average in the chat dialog and are more likely to disclose their profile data and other feedback than in a classic input format such as a website form.
This is at least how the results are to be assessed, which were achieved with the introduction of the chatbot (in the previous year, a landing page with a form was used). The number of participants in the competition increased by around 75% compared to the previous season, with an increase in product sales of Emmi Caffè Wendy of 50% compared to the same period of the previous year. This allows the conclusion that the digital activities were implemented in a more targeted manner than in the previous season. In addition, dialog funnels can address a wide variety of topics, depending on the marketing objectives.
For example, Wendy turns users into micro-influencers by inviting users to take a photo selfie, which is then shared via social media. With 40,000 AR experiences executed on approximately 25,000 unique users, over 700 hours of additional brand engagement was achieved.
This approach allowed additional data profiles (last name, first name, date of birth, email address, address, place of residence) to be collected in direct consumer contact with the brand. It is, therefore, one of the most efficient ways for consumer goods companies to enrich data with valuable attributes and subsequently, beyond the initial purchase from an intermediary, to continue to communicate (almost) free of charge directly with the target group in a relevant and personalized way within the D2C strategy.
The use of insights from direct contact
The campaign presented shows how the learning aspect is a fail of the D2C strategy and is given concrete form. After all, where in the past there was more of a disconnect and manufacturers such as Emmi left the retail partner to deal with consumers, successful FMCG brands have now discovered the value of direct contact.
Benefits for the EMMI CAFFÈ LATTE brand
For the Emmi Caffè Latte brand in particular, which is not ideal for direct sales due to its product and purchasing characteristics, a D2C strategy with a holistic focus on learning and understanding can be purposeful. Understanding the buyers of the product and extending the brand experience is seen as a great advantage. Generating and refining consumer data is a strategic Emmi goal to improve personalized marketing via the preferred touchpoint in each case.
Attributes such as leisure interests or preferred tastes are used, for example, in e-mail campaigns and their content is played out in a manner adapted to user groups/personas. The open and click rates with content-adapted targeting (vs. general content) have clearly developed positively. The segmentation also enabled test users to be recruited who could try out innovations before market launch and give Emmi feedback. Adapting marketing communication to a person's individual needs is a compelling goal in times of information overload.
Benefits for EMMI AG
As a food producer, Emmi sees another benefit in the gradual approach to direct customer contact across the entire company.
Consumers leave behind a wealth of information along the consumer journey. This data helps Emmi develop a comprehensive understanding of needs and desires to build a trust relationship between consumers and the company. In addition, the approach of focusing on better understanding helps to gradually approach the topic as a B2B2C-specialized company. Instead of starting via sales, which is not easy in a B2B2C model and requires high investments, the company can still approach D2C step by step through the chosen approach. Especially in companies that primarily have little or no contact with the direct end customer, many assumptions are associated with D2C. In this case, the approach via this D2C learning strategy helps to show the reality and opportunities well. In the following graphic, these internal myths have been contrasted with the actual reality.
At Emmi, the newly generated data is also being used step by step for other areas of application. Examples include market research, data analytics, product development, or customer satisfaction surveys. The potential in marketing automation and the merging of operational data (O-Data) and experience data (X-Data) is also rated as very high by the authors, even if the typical FMCG company like Emmi still has numerous challenges to overcome here and, above all, must fully integrate its system landscape.
Benefits for consumer goods manufacturers
As already shown at the beginning, a D2C strategy can be implemented to collect data from direct contact or primarily to sell. For companies that cannot sell via direct contact, e.g. due to product characteristics or other challenges, the presented approach may be suitable. When purchasing the physical product, direct contact can be established via QR code and customer data can be collected. In this way, the topic of D2C and especially the understanding of data can be built up in the company. Of course, it is still conceivable that Emmi will sell certain product categories via the direct channel in the future.
The approach presented is intended to show that manufacturers can learn a lot in direct contact with consumers. However, a structured and well-thought-out approach is an absolute necessity. As can be seen at Emmi Caffè Latte, the packaging design was adapted and chatbot software was used to make the campaign possible in the first place. This requires cross-departmental collaboration and significant use of resources. The project presented here, therefore, serves as an example to consumer goods manufacturers of how customer data can be generated even if no direct sales option is available in the form of an online store.
The enrichment of customer data on the manufacturer's side lets manufacturers learn directly from customers.
Summary
The article exemplifies how learning through D2C strategies with chat dialogues can succeed. Using the campaign as an example shows how a company or brand can obtain customer data without the need to buy in order to learn. In a first step, the existing literature on D2C strategies is analyzed. Although learning and data are mentioned as core benefits and goals of D2C strategies, there is a lack of concrete examples. Therefore, the technology used for chatbots is briefly explained afterwards.
Subsequently, the consumer journey and the embedding of Emmi's current campaign are shown. Here, it becomes apparent how the SAP Marketing Hybris Cloud is a central component of the campaign in order to store the data. Through this new approach via chatbots, Emmi was able to significantly increase participation numbers (75%) compared to the previous season in the competition. From this, complete customer profiles were eventually created with associated attributes. The benefits accrue on three levels: Firstly, for the brand itself, for the entire company Emmi AG and also generally for consumer goods manufacturers facing similar problems. It is important to emphasize that the chosen approach, learning instead of selling, helps to advance the topic of D2C in general within the Emmi company step by step.
Recommendations for action
In order to be able to learn from D2C strategies with chat dialogues, manufacturers should provide the necessary resources so that this can succeed on an ongoing basis.
Various approaches are conceivable for communicating directly with customers and getting to know them, for example through dialogs. The requirements for a good D2C learning strategy are high and should not be treated with less priority than any sales target.
This approach helps companies to gradually reduce internal D2C hurdles.
Conclusion
Emmi AG is trying to learn directly from customers as part of a D2C strategy. Using QR codes on Caffè Latte products sold through intermediaries, the company managed to collect customer data directly.
This allows Emmi to build a customer database and gain insights into its customers.
Do you wish to find out more about how your brand can utilize D2C strategies with chat dialogues to achieve your marketing goals? Let's have a chat!
Download the original article from the St. Galler Marketing Review in German here.