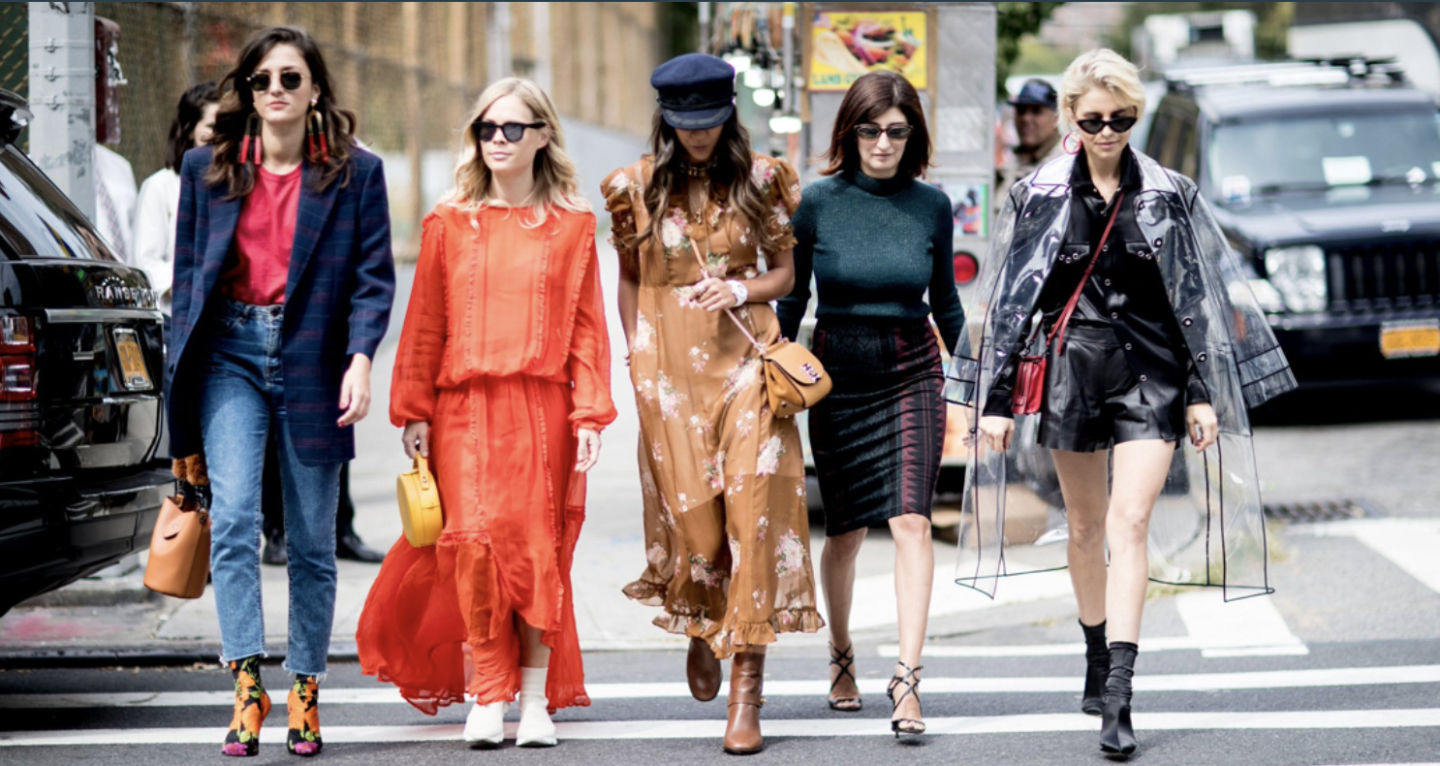 The trends come from the catwalks, but the true fashion inspiration comes from the streets. The images in this article are from the New York Street style scene. They are intended to express the emotion and liveliness of the theme of customer centricity and focus – because every customer journey is individual.
Customer centricity means the orientation of a company towards the wishes and needs of the individual customer – always considering feasibility and profitability. Digitalization is changing our products, services and business models at a breathtaking pace.
Until now, the customer experience has usually been more of a random product of internal company processes. In recent years, customers have gained considerable influence and power over companies. Customers are less patient, demand real-time services and exchange opinions about products and brands, especially when the customer experience is not consistent.
The more difficult it is to differentiate through offer and price; the more products, services and prices converge; and so the more important it is to actively and consciously shape the experience customers have with a company.
A creative approach …
Understand customer stories, expectations, and feelings
Understanding customers means listening carefully and observing attentively. Talking to customers directly instead of talking about customers. Allowing an outside-in perspective in the company and comparing it with the prevailing inside-out view.
Starting with a deep understanding of expressed and unexpressed needs. This change of perspective alone initiates a change in favour of the customer.
Customers expect a consistently positive experience
The first step in designing above-average customer experiences is to look at the experience from the customer's point of view. So you have to understand the customer journeys once completely from beginning to end from the customer's perspective.
Customer feedback is more important than market trends!
The inside-out perspective: well organized, process optimized, different silos
The customer is not interested in which department is behind which service provision at what time. Customers only ever see one company at a time. This makes it clear that customer centricity cannot be the task of a single department, but rather that each department is equally involved in the customer experience.
A better customer experience has an impact on short- and long-term customer acquisition, sales and customer loyalty.
The outside-in perspective: pain points, inconsistencies, complex user experience
Today we have tools (methods, instruments) that connect us as a company with people. These method applications are more holistic, comprehensive and radical than before. Design thinking, lean startup or service design techniques are now successfully applied in everyday business life. What they all have in common is a comprehensive orientation towards the customer.
Whether an offer is relevant, whether it meets expectations and how it is assessed is determined solely by the customer, not the company.
The purpose of a company is to have customers. If companies do not have customers on which they centre, they are useless. Companies create value by differentiating and providing relevant offers.
In the 'age of the customer', companies are successful if they offer their customers exceptional experiences and superior value. It is important to understand customer behaviour and expectations as well as knowing how it is possible to shape them along the customer journey and at touchpoints.
Understanding micro-moments, identifying pain points, developing service ideas
The trend is based on the fact that in the near future, the primary decision-making process of consumers about a purchase or action will be dominated by micro-moments. Once again, the relevance of offers, products or services will play an important role. At the right place at the right time is the motto.
Messages are controlled by data that analyse individual and personal user behaviour and identify a micro-moment. In the future, artificial intelligence will store the behaviour patterns.
Segment according to the needs and targets rather than socio-demographics
Personas are understood by a name, a face, a function with a career and a private life. Specify your persona. Not all personas can be served optimally. Who do you want to address?
Customer centricity: the customer is ALWAYS in the centre
The realization is not new, but the way is. Today it is more holistic, comprehensive and radical than before.
We are changing: how we inform ourselves, how we communicate, how we decide, how we shop and how we consume.
We need to better understand the everyday life of our customers. Before, during and after the use of a product, a service or a service.
Customer behavior has changed massively in recent years
Markets are changing: interchangeability, experience society, convenience, digitalization and price wars.
The focus is on internal company cooperation. It is the key to solving complex problems and at the same time the greatest challenge.
Customer centricity is also creating value for customers
Ultimately, it's about an attitude of not only winning customers, but also retaining them in the long term by creating value for them.
Differentiation through customer experience. Experiences have value.
Customer centricity is easy to learn, but hard to live. It's not a science but rather it functions by trying things out and just doing them. Here, knowledge of experience clearly takes precedence over theory. The challenge is to transfer the models and visualizations to the respective situation.
Design thinking – inventive thinking and creative problem-solving
Ein Unternehmen, dass kundenzentriert ausgerichtet ist, muss nicht
A company that is customer-centric does not have to completely forego the inside-out view. In fact, it is actually an advantage if both perspectives are taken into account when making decisions. However, many companies will have to learn to take the customer perspective in the first place.
The classic inside-out view of processes, strategies and communication describes the making of decisions from the company perspective. The outside-in view, on the other hand, puts the customer's well-being first and informs all processes, strategies and systems.
Understanding the customer journey
Get to know the course and critical points within the customer journey of your persona.
What does the typical customer journey look like? How can it be optimized to make our customers' lives easier? Do we know when, why and how customers contact our company and use our products and services?
Show perseverance – hold on to the customer focus
Many years of efforts to focus on the customer experience are paying off.
Touchpoints and customer journeys are pivotal points in market development and operational transformation processes. At the same time, they are the levers for an outstanding customer experience and for efficient and effective market cultivation.
There is veritable inflation of touchpoints. The fact is that companies today are rapidly managing 200 touchpoints.
Do we harmonise communication, sales and service channels and offer experiences that not only satisfy customers, but inspire them? Companies that focus on and inspire their customers throughout the entire customer journey will benefit from increased customer loyalty and increased sales.
Important terms
The central role of customer experiences for business success:
Customer Experience
How a customer experiences an interaction at the touchpoints of a company.
Experience
An event that a customer remembers.
Touchpoint
'Point of contact' of a company with possible existing or former customers, suppliers, employees and other stakeholders.
Customer Experience Management
The holistic management of a company's customer interactions.
From the inside view to the outside view
Customer Insights entstehen durch Kombination:
Inside view
Business modelling, process management, data and structures:
Company develops new solutions without involving customers only on the basis of scenarios and simulations.
Outside view
Products, Services, Services:
Company intensively deals with customer needs and develops new solutions together with customers.
Viewpoint: we talk too much about tools and methods
Customer Experience Management (CEM) is not a hype that disappears in two to three years. The manager of customer experience is currently one of the most frequently mentioned trend professions in Germany. But it is like any new management topic. In the short term, it is overestimated, in the long term, it is underestimated.
I do not consider extensive discussions of methods to be very helpful. Even experienced marketing managers sometimes get into a confused state of mind when it comes to the differences between user experience (UX), customer experience (CX) and service design.
One characteristic of methods and procedures is the tendency for them to develop a kind of definitional diversity with increasing use. Clear terminology helps to plan and implement strategies in a customer-centric manner. This is the only way to ensure that the terms have the same meaning for all parties involved.
The discussion about CEM revolves too often around terms, methods and procedures. What is forgotten is that CEM is primarily a question of leadership, employee goals and corporate culture. I see CEM's contribution as saving time, getting to the market faster, talking less, doing more and, above all, trying things out.
The images in this article are taken from freely accessible and usable sources.
By Cyrill Luchsinger, published on LinkedIn.