Companies in the B2B2C area sell their goods primarily through dealers. This makes it more difficult for them to have a direct relationship with their end customers. However, with digital trends heading the way they are, new possibilities are opening up. The magic word here is 'messaging', as the use case of Tavora Brands AG shows. Tavora Brands AG built an effective strategy to reach out to its end consumers.
Computers and email are increasingly being replaced by smartphones and messaging apps. And with the thousands of marketing messages that now rain down on consumers every day, it is important to find new ways to stand out and build relationships in an effective way. The Lucerne-based company DiALOGiFY has developed insights from this situation. DiALOGiFY enables customers to use QR codes on products or posters, links via SMS, Facebook, emails, or interactive webpages on their smartphones to start a chat conversation with companies in a similar fashion to WhatsApp – and to continue this chat dialog along the consumer journey.
Establish a direct dialog with your customers
Tavora Brands AG offers household appliances of renowned brands for Swiss households. One of these appliances is the fully automatic coffee machine 'Finessa' by KOENIG, available at suppliers like Fust, microspot or Media Markt.
Tavora Brands has set itself the goal of getting to know the end consumers of this product better, obtaining feedback, collecting suggestions for improvement and building up a database on the basis of this. In addition, they aim to gain greater customer loyalty. Together with DiALOGiFY, a chat was set up for this purpose, which customers have access to via a QR code. This means that if a customer buys a KOENIG coffee machine, or one of the other coffee machines like TURMIX from Tavora Brands AG, they will find an appealing leaflet in the water tank of the machine with the QR code and invitation to make contact, as well as a small incentive to scan the QR code.
The chat itself has the goal of capturing the customer's email address and telephone number in a short dialog and finding out where the customer bought the product, how the shopping experience was and how easy it was to get started. The conversation is positive and not too long.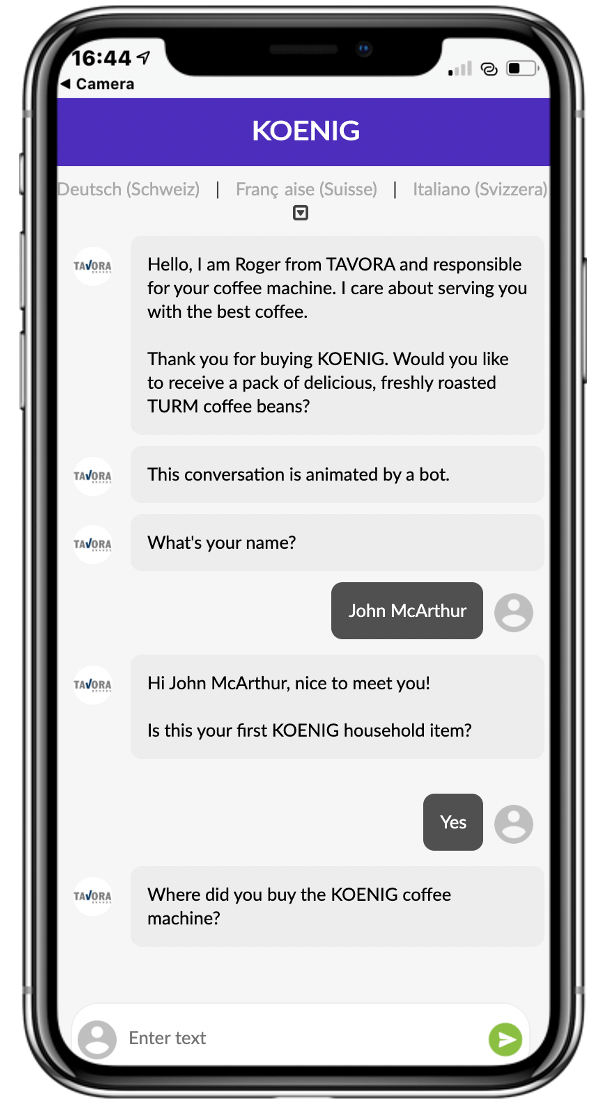 As a measure against the feedback fatigue of many consumers, Tavora Brands decided to offer customers 2 x 250 g coffee beans in cooperation with Turm Kaffee in St. Gallen, the oldest Swiss roasting company, in exchange for their feedback. And after all, a coffee machine is only as good as the coffee it uses.
Dialogs are versatile and practical
The chat is currently available in four languages and is offered as a web-based do-it-yourself toolbox with many functions. Thanks to the direct link to the profile, first names or email addresses are recognized as such and the corresponding fields in the DiALOGiFY CRM, which are filled in automatically, are made available to future communication initiatives. The address field is also linked to Google addresses so that the customer is given suggestions and tedious typing is simplified. Thanks to the alert system, the system reports when new information is received. There are no limits to creativity: Tavora Brands can now send the customer reminders in the chat, for example, to decalcify the machine or encourage them to write a review on the website with incentives.
Once such an automated chat has been created – which is easy and intuitive – customer relationships can be established without the need for human involvement. Thanks to DiALOGiFY, classic dialog marketing can be fully automated. In the background, activity can be analyzed in real-time on the web dashboard, enabling measures for customer satisfaction and loyalty (NPS) to be determined.
Are you looking for ways to reach out to your end customers?
Surveys show that customers still value direct contact with companies today, and this is made possible in an innovative way by chatting on the smartphone. At the same time, after-sales support is not only a good idea in principle, but also the ideal way for companies in the B2B sector to contact customers, obtain feedback and increase loyalty. In the end, as always, it is all about identifying customer needs, responding to them and satisfying them.
Click here for the demo chat dialog of Tavora. The data you enter in the demo chat will not be forwarded to Tavora.
By Meike Tarabori, article first published on cmm360.ch