NPS, CSAT, and CES are used worldwide to enable companies to have the stakeholders' attention in order to improve the customer experience and, ultimately, their bottom line. How can your brand use them to improve your NPS response rate, enhance customer experience, and grow your business?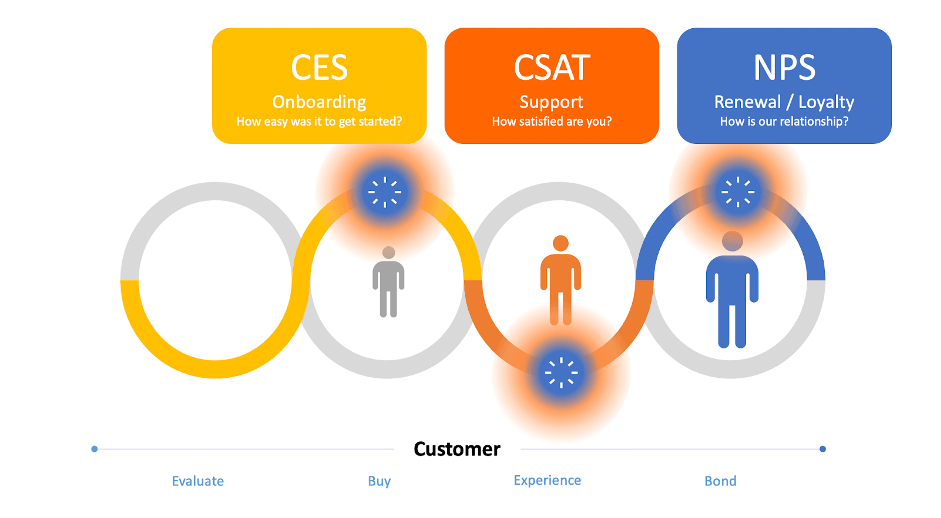 This article will equip you with a list of actionable cues to facilitate your email survey response rates. Even though it was written with Net Promoter Score© (NPS) in mind, it is suitable for any methodology measuring customer satisfaction – CES, CSAT, regular multiple-choice surveys, and others.
Similarly, for any metric that depends on the user's data, NPS becomes more accurate as the audience's size and the survey response rate increase. Nevertheless, in combination with a large amount of data available from the CRM or ERP systems in use, it becomes even more powerful.
There is a high possibility that you are not able to see the full picture of your business's health due to the low NPS response rate from your Net Promoter Score (NPS) campaign. If this is the case, you may be losing the opportunity to wow and retain your customers.
Typically, a multi-question survey's regular response rate is just over 2% — slightly higher than the benchmark click-through rate (CTR) for any marketing emails. The good news is that the NPS survey score is much over the norm. Given such a high response rate, it is surprisingly easy to raise your NPS response rate and gain more customer feedback, and, therefore, more meaningful insights for your business.
This article contains 26 actionable strategies that your brand can effortlessly implement with the right NPS software. These tactics cover multiple aspects of the NPS framework, such as template personalization, survey deliverability, audience, and schedule.
1. Personalize Your Survey Templates
Shoppers today want personalized services when they engage with the brands that they wish to purchase from. Research has shown that 79% of customers expect brands to be acquainted with them on a more personal level and provide offers that are suited and tailored to them. What does it mean? Brands must incorporate personalization in every aspect of their interaction with clients – from email newsletters and customer communication to surveys and offers they send.
Tips for your survey temples:
Survey branding
The first thing you would need to do is customize your survey template to ensure it matches your company's branding guidelines and overall image.
The survey emails represent your brand as much as any communication that you conduct with your audience. They should not be considered a central part of your marketing message, but they are to your customers and should reflect your brand. Personalized surveys must look and sound like your company so that your customers do not get inconsistent experiences when they get your NPS email.
Things to consider:
Add your business logo to stress the legitimacy of your survey,
Adjust the colors and style that represent your brand,
Use the same concepts as in any other communication as most people associate companies with their branding colors and style.
A/B test your survey subject lines
The average email open rate is 25%. It means that if your NPS email follows this number, only a quarter of recipients will open and read it. The number of people who will actually respond by scoring and providing feedback will be smaller than that. Therefore, it is in your interest to attract your audience to open the email, and that is where the subject lines come in extremely important.
The key to getting higher open rates – and, therefore, a better response rate – is to ensure that your subject lines work. You will know if they do by testing them and choosing the best-performing ones.
Every day your audience receives hundreds of emails. By experimenting with survey subject lines, you will stand a better chance to attract attention.
Which email would you open? "Do you have 30 seconds? Please, help us improve your experience!" or "Complete our survey!"
Discovering the best subject lines that work takes time. You should aim for a line that is more personal, engaging, and interesting. On the other hand, you should avoid a line that is ambiguous and is not clear in what the email entails.
Additional further reading: 15 Surprising Email Subject Line A/B Test Results You Need to Know or How to Craft Perfect Cold Email Subject Line (55 Examples)
Address your customers by name
Use custom variables to make your surveys more personal. You can include your customers' personal information (such as name, email address, or any other customizable properties you have gathered) using survey template variables.
Add the personalized call-to-action or use your customer's name in the survey email subject line. You can address them personally or use their company name in the email text body.
Keep in mind that today's consumers are sophisticated, and they want to have unique experiences. Even if it comes to NPS survey emails, they want to be treated individually and want to see a personalized approach. Emails that seem to be sent in mass will fail to attract attention and generate responses.
In cases where you have no personal information about your customer, look for ways to make your email seem unique. Make sure to use fallbacks to variables to prevent errors in situations where the particular contact does not have a value in the field that you have chosen. For example, if you have no first name in "Hi <first name>!", you can choose to use "Hi, friend!" instead.
Personalize open-ended questions
Your survey questions should be tailored and customized to particular customer groups based on subscription, lifecycle stage, industry, purchasing history, and others. The better targeted your survey templates are, the better the response rates will be. Therefore, experiment with the standard NPS rating questions, adjust the open-ended questions, and be sure to measure the results.
Nevertheless, your brand should always look for ways to learn more about its customers, make sure that the messages are witty and engaging so that the consumers are enticed to participate in your surveys.
Engage in your customer's language
No matter which channel you choose to send your NPS surveys, make sure you address your audience in their native language. It is crucial to change the language of the rating questions as well as any follow-up questions when you are conducting a survey in different geographical areas.
Your survey's primary goal is to gather responses from as many respondents as possible. Therefore, your message should be understood by the people with whom you are engaging. You want to ensure that they receive a clear message and provide accurate answers.
If you choose to conduct your survey in one language, you are risking not receiving some answers, as your audience may decide to ignore your request in a foreign language. Nevertheless, the responses may be inaccurate due to misinterpretation of options or questions in a foreign language.
Your touchpoints should be customized accordingly to geo-location despite the business being international. In the end, adapting the language is a way of customizing your survey to a specific group of people.
Your mobile survey template must look great
Did you know that more than 80% of private web visits take place on a mobile? Therefore, your NPS survey must look excellent on mobile devices. Mobile responsive designs have become the standard, and chances are high your survey will receive no responses if the mobile optimization is poor.
When you send your email survey or display it on your web application, you have no control over the device that your audience will use to access it. You must ensure that your NPS survey can be completed on any device (laptop, smartphone, tablet) anytime.
Don't worry if you do not know if your survey is well accessible across different devices or operating systems. You should always use Google Mobile-Friendly Test to see if your survey is mobile friendly and how responsive it is.
Keep your survey simple
Make sure to keep your survey simple. As tempting as it could be, you should only ask relevant questions and avoid having too many of them. There is one thing that users hate, and it is overly lengthy surveys.
Even though it is very tempting to ask all sorts of questions, keep it quick and straightforward.
Luckily, NPS makes the survey easy as it asks respondents one single question before requesting qualitative feedback. Even then, keep it short. Customers will naturally leave the survey if it appears to demand a lot of their time.
2. Deliverability of NPS Survey Emails
Email deliverability can impact your campaign results. Poor email reputation can lead to your emails being sent to spam folders, where the recipients will not engage with your survey. Therefore, it is your concern to ensure an excellent sender reputation and land your emails in your audience's inboxes, where they are much more likely to engage.
Nevertheless, many techniques used to improve sender reputation will, in fact, make your NPS emails more engaging, and therefore increase the open and click-through rates.
Choose the NPS tools that allow you to send the survey from your own domains or even offer dedicated email sending IP addresses. Since you are the only one using this IP address to send your emails, your sender reputation will be based solely on your activity.
Additional further reading: The Ultimate Guide to Email Deliverability
Use a real person's email to send your surveys
One of the greatest mistakes that many brands make while sending NPS surveys is choosing a generic email address to send them from.
Have you ever received an email from no-reply@brandname.com? If so, what did you do to that email? Most likely, you deleted it or left it to rot in your inbox. Instead of using a generic email address, send the survey from an email belonging to a real person. In this way, your customers will see that you are reaching out to them on a more personal level, instead of just sending automated emails to a large pool of contacts.
Keep in mind that the sender's details are equally important. Many people will choose not to open an email if they cannot recognize whom it is coming from. Ideally, the email should be sent from someone taking a high position in the company, e.g., Tim Peterson, CEO of Brandname.
Take advantage of the Anita effect
It is deemed that within a male-dominated business, the email open rates are higher when the sender is a female. This phenomenon is called the Anita effect. Even though it has not been validated scientifically, it should be in your brand's interest to test this theory in your NPS surveys.
Many may argue that this theory is sexist or based on gender-specific stereotypes, but you may still look into it as yet another chance to attempt an increase in the numbers of your survey response rates.
Use your company domain to send out the surveys
The credibility of your survey is the most critical factor which will determine its success. Your respondents will first look at the sender's information to ensure that their answers are received by a business they trust and that the data collected will be safe.
Using your own domain, you will ensure that the respondents recognize the survey and want to share the answers with a brand they trust. Such recognition will improve email delivery and open rates.
Set up SPF, DKIM, and DMARC records
DKIM (Domain Keys Identified Mail) and SPF (Sender Policy Framework) protocols authorize email service providers (ESPs), such as Google, Yahoo, and Microsoft, to filter incoming emails for spam or fake email addresses. The protocols check the source of the incoming message, and if passed, the email will land in the intended recipients' inboxes.
A simple way to improve your email delivery rates is to include SPF and DKIM in your DNS settings. This addition to your DNS will tell the recipients that you have authorized your NPS provider to blast emails on your behalf. Without this change, on the other hand, your emails will have a higher chance of being sent to spam.
Use a dedicated IP address to send your surveys
An IP address is a numerical label assigned to a computer that is connected to the internet. Every emailer sends their emails from an IP address.
A shared IP address is an IP address shared by a pool of senders, while a dedicated IP address is used only by a single domain. Your IP address impacts how mailbox providers determine your sender reputation, and a dedicated IP allows you to take full control of it.
It is advisable to use a dedicated IP address for brands that do high-volume email sending. Here, we spell out some of the advantages of choosing a dedicated IP:
You have full control of your own IP reputation.
Your emails will be signed with the domain or subdomain configured in your NPS service; no other third-party domain will be displayed.
Most certification services that help your survey emails bypass the anti-spam filters require a dedicated IP address.
It is easier to get whitelisted with Gmail, Hotmail, Yahoo, and others if a dedicated IP address is used.
You are discouraged from sending more than 1,000 surveys a day unless you have a dedicated system in place and IP addresses supporting it.
Keep your email list clean
The quality of your respondents' list is crucial for the success of your survey. Having an audience that is generally engaged with your business communication, and that has a much better response rate is an undoubted value.
Make sure to check your email list regularly and maintain its quality. You can use services that will periodically clean the email lists and make sure those that bounce or do not respond are taken out.
You should also avoid sending surveys to people who are not expecting them. Take a close look at your bounce rates, inactive customers, email addresses that do not open or engage with your communication, and regularly unsubscribe those who will not benefit from your emails.
Additional further reading: 7 Email List Hygiene Best Practices for a Fresh and Clean List
3. Tips on NPS Survey Audience
Every customer is different, and each NPS email should be created, keeping this in mind. Segment your audience based on various factors, such as customer lifecycle stage, industry, position, previous engagement, and others.
Never send the same NPS email to all your customers.
Tips on building survey audience:
Find the right time to survey your customers
The right timing is as important as the right questions. Therefore, segment users based on their customer lifecycle stage and trigger surveys to reach the relevant segments.
For example, if you wish to find out what your customers think about the overall product experience, you should not be sending such a survey to newly signed up consumers, as they would most likely ignore it. The reason is simple – they have not experienced enough to be interested or able to answer.
On the other hand, if you are looking for feedback on the first-time experience, you will likely get a large percentage of first-time users happily engaging with your survey and sharing their feedback.
That is why the right timing is crucial. You should understand the positioning of your customers before asking them to respond to your survey.
Pre-empt your respondents of upcoming surveys
If you have regular recurring interactions with the respondents, notify them of the forthcoming survey. This method can help you increase the number of respondents dramatically.
If your account managers have regular meetings or reviews with the client, make sure they inform of a survey. Some studies have shown that pre-notification can increase survey response rates by up to 30%.
Do not send surveys to unhappy customers
The purpose of the NPS survey is to find out the feedback that you can take into account to improve your service. If you are aware of customers facing issues that cannot be solved immediately due to lack of resources, technical bugs, or any other reasons, do not ask them for feedback.
There is nothing more baffling than providing feedback and feeling that it is not being heard. Therefore, if you have a client who is unhappy with something that you cannot fix immediately, then do not send them the NPS survey now. Instead, engage with such a customer when the issue they are facing is resolved.
The reason for this is simple. There is no point in sending the survey with no clear action plan in mind. It will just make your customers more frustrated as they take time to feedback to you; however, you are not able to address the issue.
Ensure your customers' privacy
Businesses have been required to respect their clients' data privacy for decades. Data privacy has become a much more important topic with the introduction of GDPR – the regulation in the EU law that impacts the way companies store and process data from their customers.
With the cases of consumer data being violated being on the rise, people nowadays are much more reluctant to share their personal information. Therefore, you are advised to collect the minimum data required.
On top, having a clear privacy disclaimer in your NPS email footer will make people trust your brand more and therefore give more honest answers. Your privacy disclaimer needs to include the following:
What personal data is collected
Usage and disclosure of personal data
Contact information for any clarifications or adjustments
Option to change or delete their personal information
4. Tips on Survey Scheduling
Scheduling your surveys is as essential as having the right target audience or the right questions. These are some of the general rules that you should follow before you find a scheduling pattern that works best for your business:
The first survey should be sent out after the interaction between your business and the customer. Give sufficient time for customers to form an opinion about your product – the first seven to 30 days should be the right timeframe.
Quarterly or bi-annual surveys are the ones that you should aim for. These time intervals give your customers sufficient time to be acquainted with your solutions and give you regular feedback. You can then monitor it and assess whether your customers' satisfaction has changed during their lifecycle.
Transactional surveys scrutinize the experience a consumer has had within a specific transaction/interaction (more commonly called a touchpoint). This survey does not assess customer loyalty but rather satisfaction with a particular segment of the company (e.g., customer service, purchasing process, online transactions, and others) in order to improve it.
Choose the right time to send your surveys
The time you choose to send out your survey is among multiple factors that will determine its delivery and engagement success.
According to GetResponse findings, 23.63% of emails get opening within the first hour of delivery. However, the rate drops to as low as 4.8% by the fourth hour, and a meager of 0.6% of emails get opened by the 24thhour of delivery.
Nevertheless, your NPS survey email will compete with people's business or personal emails, as well as with lots of spam, marketing, and other correspondence received on an hourly or daily basis. Therefore, you need to pick the best time to send your NPS surveys and ensure that your customers answer them.
Many marketers believe that most emails sent between 8-10 am are opened and read by recipients, while emails after 8 pm until midnight tend to perform well, too. Therefore, a key feature in your NPS tool is the option to schedule your surveys so that they reach your customers at the most optimal times possible. These times may be based on different time zones.
Be careful and do not to over-survey your audience
Every business wants as much feedback as possible but sending your surveys every few weeks is excessive. By doing so, you are more prone to alienate yourself from your customers and build an image of an annoying brand. Some airlines, service providers, or hotels tend to send surveys each time the customer engaged with them (for example, feedback on each flight, each ride, or stay). It is nothing else but excessive.
Over-surveying is a severe issue as consumers will stop paying attention to your feedback requests, and it will be much more difficult for you to get meaningful input. Set yourself a goal to survey once per quarter or every six months. In this way, you will ensure that the feedback is constructive, and, at the same time, you will have time to address it.
What is the right number of users to survey in a specific NPS email campaign? The answer depends on the outcome you are looking after: a statistically accurate NPS to benchmark your activities or continuously listen to the consumers.
If you are looking at option one, then the easiest way is to survey enough respondents to get an NPS result that is statistically accurate. The number of respondents will, however, depend on the total number of customers you have.
If you are an organization promulgating customer-centricity, you can choose to survey all customers, gather their feedback, and analyze the result. In this case, you can choose two ways to get the results: survey all customers at once or do it over a certain period of time.
The classic approach would be to survey all customers at once by, for example, sending quarterly or bi-annual NPS survey emails to them. Depending on your capacity and the number of customers you have, this may be a viable option. You'll also be able to get a quick overview of the results and gather their feedback.
However, should your organization have an ample number of clients, a more preferred approach could then be to choose to survey all customers within a certain period of time. If you send a quarterly survey to 6,000 customers, instead of sending it at once, split the recipients into three monthly batches (1/3 per month). In this case, you would survey 2,000 customers over one month, which would amount to a total of 6,000 customers to be surveyed in a quarter.
On top of all, you should be setting up other scheduling rules:
Daily survey limit – cap the total number of surveys you can send per day.
Survey throttle – make sure the same person does not get over-surveyed if they appear in multiple campaigns.
The key takeaway is – never over-survey your customers. Making them annoyed with your business will be counterproductive and result in the opposite result – your score will plummet, even if you offer the best product or solution in the market.
Additional further reading: Feedback Fatigue: Stop Over-Surveying Your Customers
Do not overestimate your survey processing capacity
The primary purpose of your NPS surveys is to get customer feedback, respond to your customers, and develop an action plan. Therefore, do not send more than you can actually process and respond to. Overwise, the efforts will become pointless.
Assess your company's ability to process and analyze the data. Make sure you have enough human resources to cope with the responses and that the team is able to act effectively on the feedback given. Being flooded with data and information may cause issues for your teams to actually dig deeper into responses and address them.
If the lack of a workforce becomes an issue, you can look for tools that help you automate the process and set off different auto-reply messages. You can choose to auto-reply to Promoters and Passives while manually engage with Detractors.
5. Other tips to improve your NPS response rate
Here are some additional miscellaneous tips that will benefit your NPS survey campaigns. They are as much important as the ones mentioned earlier and shouldn't be ignored, nevertheless.
Offer an incentive for your respondents
As a rule of thumb, any form of incentive is best avoided for surveys and studies. Even the small ones can influence the respondent's opinion and, therefore, give you inaccurate data.
However, suppose your NPS survey response rate is very low, and other mentioned methods do not work. In that case, incentivizing your users to complete the survey can be an easy strategy resulting in an increase of feedback. Several surveys have shown that incentives can boost your survey response rates by 5% to 20%. The type of stimulus can be decided by you: a discount, a giveaway, a special offer, or an account credit.
The chances of people taking part in the survey are higher when the reward outweighs the participation cost (i.e., time spent). On average, the increase in response rates when an incentive was offered was 19.1% for monetary and 7.9% for non-monetary rewards. Keep the incentives small, and they will affect your response rates without hurting the quality of your data.
Additional further reading: Buyers trust in online Review.
Use the right survey channels
Simplicity is one of the most significant advantages of Net Promoter Score (NPS) surveys. Since NPS is a one-question survey, it is easy to incorporate it into various communication channels – email, social media, web application, website, and others.
An easy way to improve your response rate is to survey customers on the channels that match their habits:
If you generally communicate with your customers via emails, you will receive a better response rate if you email them your NPS survey.
If your solution is a SaaS service, you will get a better response rate by running your NPS survey as an in-app campaign.
If your product is a mobile app, use a mobile SDK to incorporate your survey into the app; in this way, you will make sure to get a better response rate.
Channels that you use to disseminate your NPS survey play a massive role in the response rate. Therefore, choose the right ones, or combine them for an even better result. In this way, you will maximize your survey's visibility, which will lead to the highest possible response rate from your targeted audience.
Regularly remind of your NPS surveys
Some of your targeted audience will not complete the survey right away and may forget about it later. Therefore, if you run an NPS survey campaign, you can remind your audience about the need to complete the survey. It will maximize the survey output and drive more responses.
However, avoid being overly pushy and reminding too many times. The best is to send a reminder twice or three times at most. Moreover, be sure to filter the customers who have responded and do not send reminders to them. You should also have the option of allowing your audience to unsubscribe from the survey if they have no interest in it. The last thing you want is to irritate your audience.
Keep in mind that your reminders should not be about convincing your audience to complete the survey; instead, they should give a second nudge to those who did not have time to participate in the initial round.
Deal with the auto-replies effectively
It will happen that your NPS survey email will land into someone's mailbox when they are not available (for example, on leave) or the person has left the company. What should you do in such situations?
Here are two ideas on what you can do, and your survey service provider might accommodate these options, as well:
Resend the survey in a couple of days or weeks to get it delivered, thus improving the deliverability rate.
Unsubscribe a contact which changed their job. It is imperative to keep your audience list clean and consistently keep improving the quality of the respondents' list.
Show appreciation and act!
Make sure that you act on feedback received. Otherwise, if your audience sees that their feedback wasn't taken into account, you will simply irritate them. Remember, there might be no next time, and your surveys might get ignored if you do not act as per what feedback was given.
Also, do not forget to thank those who took the time to participate. A simple thank-you note is an easy and cheap way to show appreciation. Not only will it foster a stronger bond with your brand, but it will also improve participation in future surveys. Here are some ideas on how to thank:
Thank you for the feedback given! We will use it to make your future experience with us even better!
Thanks for helping out. You are our hero!
Big thank you for taking the time to complete this survey.
A thank-you can be a great booster of further relationship efforts, resulting in a stronger bond with your audience, as well as enticing them to share their feedback again in the future.
Automate and integrate
The difference between the specialized NPS service provider and your regular emailing tools is that the NPS service provider will have them all integrated into one place. It will have various survey templates, provide you with useful reports, and automate the processes for you. Advanced NPS products allow you to automate sending based on specific touchpoints or even trigger conversations with your respondents.
NPS is a simple concept, thus creating and delivering it using your survey tools might be tempting. It may also be cheaper, but it will likely cost you a lot of valuable time and human recourses to analyze the response, provide reports, and digest the feedback received.
Do you need more help to improve your NPS respose rate?
A poorly design survey will have a negative impact on your NPS response rate. Nevertheless, it will also affect your brand and overall customer experience. Having a well-crafted survey will help you get crucial data first-hand from your customers and address issues that you may not even be aware of.
NPS response rate is something that many brands struggle with. Having enough data to draw meaningful conclusions is key. Therefore, you could engage with a third party to create the survey flow for you and ensure its delivery.
At DiALOGiFY, we will take care of your survey campaigns and take the burden of result analysis from your shoulders, while you will be able to take that time and use it to improve your services based on the feedback received. We also provide an AI-based text analytics service.
Additional further reading: NPS – THE MAIN CUSTOMER EXPERIENCE MEASUREMENT AND IMPROVEMENT SYSTEM – THE NET PROMOTER SYSTEM®